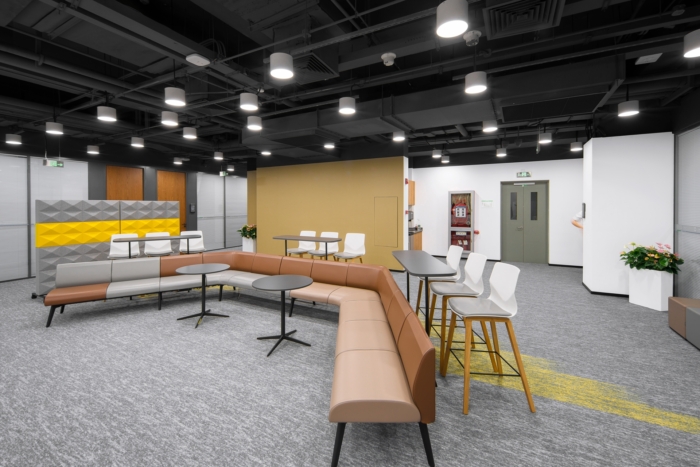 Shanghai Electric Digital Technology Offices – Shanghai
Firm
size

86,111 sqft
Year

2021
Industry
Technology
,
Shanghai Humin Architectural Design Institute completed the Shanghai Electric Digital Technology offices in Shanghai, China.
Shanghai Electric Digital Technology Co.,Ltd is committed to drive digitalization, networking, intelligentization and greenization of equipment manufacturing.In 2021, NOVAH remodeled SEDT's office space. The office is multifunctional and supports various activities of work, meeting and entertainment and etc.

In the office, there is nothing more striking than the leisure area and the design concept of this area follows the principle of health and openness. As you can see, wood elements are used extensively, with logs used for the lounge tables and chair legs, and a number of plants are placed in this area. This area allows employees to be fully close to nature and let their bodies and minds rest.

The collaboration area is also worthy of attention. This area has a lot of interesting furniture. The Cabana sofa, together with FourSure® Family chairs and Four Resting tables, forming an open, flexible and convenient collaboration area, where employees can open discussions at any time, and allowing employees can express their ideas freely.

FourSure® Family Series seating is found almost everywhere in this office. With its unique, organic form, remarkable comfort and endless configurations, the FourSure® family is the ideal choice of for modern multifunctional space.

In another open collaboration area, we followed the idea of "less is more" and did not place too much furniture in the area, but reserved a large space. In this area, the Cube sofa and the Fabricks play an important role. The Cube sofa is a separate module, easy to move. Fabricks with excellent sound absorption properties serve as space dividers in this area, providing flexibility for the modern open workplace.

In the corridor area near the window, we provide an optimal environment for employees to socialize. Sitting here, people can enjoy the natural scenery outside the window, surrounded by sunlight, breeze and greenery.

The meeting rooms are more rigorous and formal in style. This area is mainly used for the company's senior people to discuss important matters, and the simple style can make the participants more focused.

Nowadays, employees' expectations of office space have changed. They expect an office to be not just a place to work, but a perfect community that combines work and play. In this project, the design of this office space followed this concept, and creating a multifunctional office space that enhances the well-being of employees.
Design: Shanghai Humin Architectural Design Institute
Photography: courtesy of NOVAH